I've been tagged by both Rhian and Wylie to do this meme about my hometown of Auckland.
Best place to eat: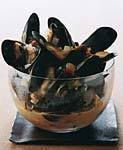 This is such a hard question since my favorite place to eat depends on my mood and my wallet. Hubby and I both enjoy the Belgium Beer Cafe at Mission Bay. It overlooks Mission Beach and is beautiful during the summer when the pohutukawa trees are in full bloom. They specialize in huge pots of mussels done in various ways, which hubby loves. I usually go for the vegetarian option. We both love their beer. My favorite is the raspberry beer – the Framboise.
Best Shopping Mall
I love to shop at Botany Town Center in all weathers, although they don't have a decent book shop. Actually that's probably a good thing. Hubby and I buy our groceries here and usually have a coffee and people watch first. It's quieter when it rains because it's not all under cover but a little water never worries me. They have an English style pub here along with my favorite clothes store.
Famous Landmark
For me it would have to be Rangitoto Island. The perfect cone of the dormant volcano is visible from most parts of Auckland. It's the youngest in Auckland's field of volcanoes. A ferry trip to the island and climbing to the top to eat a picnic lunch is a fun day trip and a good way to tire out the kids.
Best Tourist Attraction
We have a lot of rain in Auckland so how about the Auckland Museum for a rainy day. Soak up the maori culture, check out the carvings and artwork, the sculpture.
Place for Kids
Kelly Tarlton's Antarctic and Underwater World. It's fun for big kids as well. Check out the sharks and huge stingrays along with the Antarctic Encounter.
Popular Outdoor Activity
It's got to be the beaches – from the Auckland harbor to the wild West Coast beaches. Take a ferry ride out on the harbor, go yachting or take an afternoon coffee cruise, visit the outer islands or go for a swim. Try surfing. Go fishing. If you're into water sports we've got it all.
Breathtaking Views
For anyone wanting a view of Auckland and the harbor I'd send them to the top of Mount Eden. From here you can see most of the harbor and outlying gulf as well as the other dormant volcanoes and the city. Best of all it's free.
Only Found in Auckland
The Auckland Sky Tower. Climb to the top in a super fast lift for the views and bungee back down. The tower is also in the photo above.
I'm meant to pick others and tag them now. I choose Christina and Gabriele.